Explore stories
Member communities
SWAAY voices
Close
MEMBER COMMUNITIES
SWAAY VOICES
---
In one of our leadership communication programs, my team and I were coaching the sales managers of a financial institution
I was helping one particular mid-level manager prepare for an upcoming sales call when I asked her: "Why do you do what you do?"

She responded: "Well, I like serving others."
"Why?", I asked.
"Because service is important to me." Me again: "Why?"
"Because that's what my parents taught me."
"Tell me more."
"Growing up, my parents ran their own business. Every single day, I saw them get up early to serve their customers, putting others' needs before their own. I think about that experience every day when I wake up, and I want to teach that to my children as well. That's why I do what I do."
A-hah!
It may seem surprising, but sometimes we get so caught up in our work and our busy day that, when put on the spot, we're left digging for answers to basic questions like why we do the things we do. And while you might think you have the answer, as seen with my client, it can be tough to get past the generic answer to arrive at the underlying drivers of our behaviors.
But getting to that deeper truth is a critical step if you're preparing to speak publicly, because Why you? is the single most powerful question you can ask yourself when preparing a speech or presentation. It's one of the best tools for commanding rooms and influencing others. This is where you put aside the bureaucracy of your job, the politics of your cause, or the dysfunction of your office, and determine the sense of purpose that guides your actions.
Whether you're a regular speaker within your workplace or you're preparing to give your first company-wide presentation, centering on your answer to Why you? will provide the following advantages:
It helps you choose language that is authentic to you. It's hard to sound authentic when you are parroting corporate jargon. Why you? brings out your natural language and makes your speech more genuine.
It animates your body and voice. Body language and vocal tone will complement your words. When you truly believe in your message, that sense of purpose naturally animates your body and voice.
It builds your confidence. Both young professionals and seasoned executives will confess to a lack of confidence when speaking. What if others in the room know more than I do? What if the audience is questioning my authority to speak? Connecting with your Why you? reinforces your credibility and your authority.
It helps you connect to your audience on a personal level and build trust. You might think it's unprofessional to share a personal story in a business setting. But we are not robots; we are human beings doing business with other human beings. We are driven by personal motivations, and we have values that guide our actions. When you share those motivations with others, even in a business setting, you connect on a personal level and you build trust.
One of the best places to include your Why you? is in the beginning of your speech or presentation. Imagine using the story about growing up in a family-owned business when you are pitching a small business prospect. Using that story, the prospect might think "Yes, this person understands where I am coming from. I can trust this person."
Take a moment right now and consider:
What gets you out of bed in the morning? What made you choose your line of work? What made you volunteer for this particular cause? Why do you do what you do?
It's not "So I can make more money" or "So I can get promoted" or "So I can look good in front of my boss." It's deeper than that. And you might have to ask yourself this question repeatedly to get the underlying answer.
If your response to Why you? has something to do with family, you might be on the right path. You'll notice a lot of the Why you? comes back to family and early childhood. In another training program, one woman got straight to the point when she said "My father sold insurance, and every day he came home happy. When it was time to choose a career, I chose to follow in his footsteps. That's why I do what I do."
If you're struggling to find an answer to Why you? that feels authentic while also sticking to your goals for the speech, consider the following questions: Why do you care about your audience or about the occasion of the speech? Why do you care about your subject or your organization? What are you proud of in your work?
One word of warning: be prepared to embrace the authentic answer to this question. Sometimes Why you? has ramifications that will follow you well beyond a speaking event.
For example, I remember coaching a man who worked in real estate development. I knew this was an engaged, passionate individual with a fabulous sense of humor. But as he stood up to practice a presentation to a community board, he changed completely. His shoulders slumped, his smile drooped into a grimace, and he sighed loudly while leaning on one hip and weakly gesturing at the slides behind him. He was afraid that he was a boring speaker. And actually, he was. So we worked through a few critical questions, and when we arrived at Why you? he came to a startling realization. I asked him why he was passionate about his work. It turns out, he wasn't. He hated his job. He mistrusted his boss. He didn't like the industry. He wasn't a boring speaker, he was just bored.
If you are bored with your subject or if you hate your job, it's going to be very difficult to give a powerful, authentic speech. And in those cases, you do have a couple of options. You can change careers, as my friend did. He wound up quitting his job and pursuing his dream to revitalize an abandoned building in his city. But maybe you have three kids to support, college bills, and a mortgage. So instead of searching for what you're passionate about, think about what you like about your work.
The final question I always hear in relation to Why you? is: "How will I know when I've found the right answer?" This turns out to the be simplest part of the process. You'll know, because you'll feel it and think "Yes, that's the thing I'm looking for."
Once you've identified your Why You?, you can move on to the other two questions I coach all speakers to consider: "Who is your audience?" and "What is your goal?". These questions also provide you with information that should shape the content of your speech. Select content that will resonate with your audience and steer the speech in a direction that connects to your ultimate goal. If you keep all three questions in mind, answer them honestly, and use those answers to inform your speech preparation, you'll give an impactful presentation. Your Why You? is the key.
Over It Mic Drop GIF by Wilson Tennis - Find & Share on GIPHY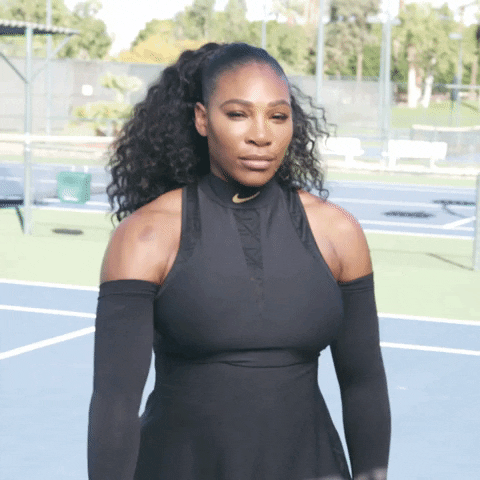 Giphy
Discover & share this Wilson Tennis GIF with everyone you know. GIPHY is how you search, share, discover, and create GIFs.
3min read
Self
We are living in a time when women are rising to new heights which means they are regularly being confronted with the fear of being "too much". For women in business this is pervasive and costly.

A few ways women can be perceived as "too much" are:

Speaking up about their successes and achievements.

Sharing one too many photos of their cute kids.

Telling one too many people about that date night.

Looking a little too good in that swimsuit.
These can lead to being publicly attacked on social media or privately slandered which in turn leads to women dimming their light and walking on egg shells in hopes of avoiding conflict and judgement.

The minute a woman feels it's unsafe to shine she will begin to overthink, worry, and fear how she shows up in the world.

Forgetting to announce the book is done and the interview is live.

Choosing to focus on what's still on the to-do list rather than what's been checked off.

Many female entrepreneurs are subconsciously altering their behavior in an attempt to not attract too much attention to themselves, rather than focusing on allowing authenticity and magnetism to attract their ideal clients and community.

Women are afraid of being criticized, ostracized, and abandoned by other women for simply being who they are. This leads to quite the quantum when being who you are is simplest way to accelerate the growth of your business.
New research shows men are far more comfortable with self promotion than women are. Researchers found that men rate their own performance 33 percent higher than equally performing women. What we know is that self promotion pays off and this is where women are missing the boat.

The world needs more women to step into leadership roles and no longer be intimidated about creating six and seven figure careers.

Here are five ways to release the fear of being "too much":

1. Approve of yourself.

While it feels good to receive outside validation it will never be enough if you don't first appreciate yourself. The key to having a healthy support system is to make sure you are part of it. Being your biggest critic is what your mother's generation did. It's now time to be your biggest cheerleader. Becoming aware of self talk will reveal what belief is ready to be re-wired. Create a simply mantra that affirms how incredible capable you are.

2. Connect deeply to those you serve.

One powerful way to shift out of people pleasing behavior is to get clear on who actually matters to the wellbeing and success of your life and business. Leadership is not about being the most popular, instead it's a decision to be brave for those who can't be. Take a few minutes each day to visualize and meditate on those your business serves and supports. See your future clients moving toward you every time you choose to stand in your power and use your authentic voice.
3. Remember the legacy you wish to leave.
Having your life purpose and legacy in writing is one of the most transformational exercises you can do. Reading this often will keep you focused on what matters. Knowing what you wish to leave in the hearts of those you love most is incredibly grounding. You didn't come here to keep your mouth shut, dilute your truth, or dim your light-you came here to make a difference.

4. Forgive those who have been unsupportive in the past.

The past has a way of informing the future in a negative way when there is unresolved pain. Take a few minutes to get quiet and ask yourself who you have unforgiveness towards or maybe their name came to mind as you read this article. Listening to a forgiveness meditation or writing a letter to the person you are ready to forgive are both simple and effective ways to process and heal.

5. Be part a community of bright, successful women.

Meaningful relationships with others who have similar aspirations is what will keep you out of isolation and playing small. These connections can happen in a networking group, online community or a local Meetup. Thriving in every area of life is depend on you knowing where you belong and being celebrated there. Don't wait to be invited, go actively seek out people and places that support your dreams and desires.

6. Accept you can have it all.

Women have been fed a lie for generations that says, you can have love or money. Decide you can have it all and allow it to flow to you. You can have a successful career and an amazing mother. You can balance motherhood and loving marriage. Don't let anyone write the rules for you. This is the time to create the life you desire on your terms.
7. Celebrate everything!
The fastest way to leave the haters in the dust is to celebrate everything! At the end of each day lay in bed and recall the best moments. At the end of each week, publicly acknowledge and celebrate what's good in your life. Once a month, have a celebration dinner and share it with those who have helped you in the journey. If there's something good happening, talk about it with everyone who will listen!

May you be a woman who chooses to shine so that others may be reminded of all they can be and do.