Explore stories
Member communities
SWAAY voices
Close
MEMBER COMMUNITIES
SWAAY VOICES
---
In one of our leadership communication programs, my team and I were coaching the sales managers of a financial institution
I was helping one particular mid-level manager prepare for an upcoming sales call when I asked her: "Why do you do what you do?"

She responded: "Well, I like serving others."
"Why?", I asked.
"Because service is important to me." Me again: "Why?"
"Because that's what my parents taught me."
"Tell me more."
"Growing up, my parents ran their own business. Every single day, I saw them get up early to serve their customers, putting others' needs before their own. I think about that experience every day when I wake up, and I want to teach that to my children as well. That's why I do what I do."
A-hah!
It may seem surprising, but sometimes we get so caught up in our work and our busy day that, when put on the spot, we're left digging for answers to basic questions like why we do the things we do. And while you might think you have the answer, as seen with my client, it can be tough to get past the generic answer to arrive at the underlying drivers of our behaviors.
But getting to that deeper truth is a critical step if you're preparing to speak publicly, because Why you? is the single most powerful question you can ask yourself when preparing a speech or presentation. It's one of the best tools for commanding rooms and influencing others. This is where you put aside the bureaucracy of your job, the politics of your cause, or the dysfunction of your office, and determine the sense of purpose that guides your actions.
Become a member
Whether you're a regular speaker within your workplace or you're preparing to give your first company-wide presentation, centering on your answer to Why you? will provide the following advantages:
It helps you choose language that is authentic to you. It's hard to sound authentic when you are parroting corporate jargon. Why you? brings out your natural language and makes your speech more genuine.
It animates your body and voice. Body language and vocal tone will complement your words. When you truly believe in your message, that sense of purpose naturally animates your body and voice.
It builds your confidence. Both young professionals and seasoned executives will confess to a lack of confidence when speaking. What if others in the room know more than I do? What if the audience is questioning my authority to speak? Connecting with your Why you? reinforces your credibility and your authority.
It helps you connect to your audience on a personal level and build trust. You might think it's unprofessional to share a personal story in a business setting. But we are not robots; we are human beings doing business with other human beings. We are driven by personal motivations, and we have values that guide our actions. When you share those motivations with others, even in a business setting, you connect on a personal level and you build trust.
One of the best places to include your Why you? is in the beginning of your speech or presentation. Imagine using the story about growing up in a family-owned business when you are pitching a small business prospect. Using that story, the prospect might think "Yes, this person understands where I am coming from. I can trust this person."
Take a moment right now and consider:
What gets you out of bed in the morning? What made you choose your line of work? What made you volunteer for this particular cause? Why do you do what you do?
It's not "So I can make more money" or "So I can get promoted" or "So I can look good in front of my boss." It's deeper than that. And you might have to ask yourself this question repeatedly to get the underlying answer.
If your response to Why you? has something to do with family, you might be on the right path. You'll notice a lot of the Why you? comes back to family and early childhood. In another training program, one woman got straight to the point when she said "My father sold insurance, and every day he came home happy. When it was time to choose a career, I chose to follow in his footsteps. That's why I do what I do."
If you're struggling to find an answer to Why you? that feels authentic while also sticking to your goals for the speech, consider the following questions: Why do you care about your audience or about the occasion of the speech? Why do you care about your subject or your organization? What are you proud of in your work?
One word of warning: be prepared to embrace the authentic answer to this question. Sometimes Why you? has ramifications that will follow you well beyond a speaking event.
For example, I remember coaching a man who worked in real estate development. I knew this was an engaged, passionate individual with a fabulous sense of humor. But as he stood up to practice a presentation to a community board, he changed completely. His shoulders slumped, his smile drooped into a grimace, and he sighed loudly while leaning on one hip and weakly gesturing at the slides behind him. He was afraid that he was a boring speaker. And actually, he was. So we worked through a few critical questions, and when we arrived at Why you? he came to a startling realization. I asked him why he was passionate about his work. It turns out, he wasn't. He hated his job. He mistrusted his boss. He didn't like the industry. He wasn't a boring speaker, he was just bored.
If you are bored with your subject or if you hate your job, it's going to be very difficult to give a powerful, authentic speech. And in those cases, you do have a couple of options. You can change careers, as my friend did. He wound up quitting his job and pursuing his dream to revitalize an abandoned building in his city. But maybe you have three kids to support, college bills, and a mortgage. So instead of searching for what you're passionate about, think about what you like about your work.
The final question I always hear in relation to Why you? is: "How will I know when I've found the right answer?" This turns out to the be simplest part of the process. You'll know, because you'll feel it and think "Yes, that's the thing I'm looking for."
Once you've identified your Why You?, you can move on to the other two questions I coach all speakers to consider: "Who is your audience?" and "What is your goal?". These questions also provide you with information that should shape the content of your speech. Select content that will resonate with your audience and steer the speech in a direction that connects to your ultimate goal. If you keep all three questions in mind, answer them honestly, and use those answers to inform your speech preparation, you'll give an impactful presentation. Your Why You? is the key.
Over It Mic Drop GIF by Wilson Tennis - Find & Share on GIPHY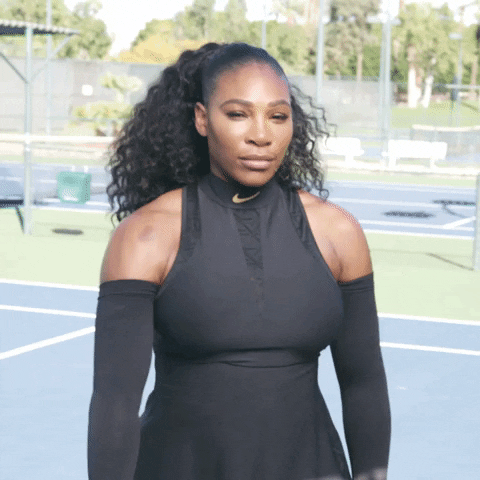 Giphy
Discover & share this Wilson Tennis GIF with everyone you know. GIPHY is how you search, share, discover, and create GIFs.
4min read
Fresh Voices
In many ways I am a shining example of the American Dream. I was born in Hungary during the Communist era, and my family fled to Israel before coming to the U.S. in pursuit of freedom and safety. When we arrived, I was just a young, shy girl who couldn't speak English. After my childhood in Hungary, New York City was a marvel; I couldn't believe that such a lively, rich place existed. Even a simple thing like going to the market and seeing all the bright, colorful produce and having so many choices was new to me. I'll never take that for granted. I think it's where my love affair with color truly began.
---
One thing I had was a strong work ethic. I worked hard in school, to learn English, and at jobs including my first job at Dairy Queen -- which I loved! Ice cream is easily my favorite food. From there, I moved into the garment district where my brother-in-law's family had a business. During this time, I was able to see how a business was run and began to hone in on my eye for aesthetics and willingness to work hard at any task I was given.
Eventually, my brother-in-law bought a dental supply company in Los Angeles and asked me to join him. LA, a place with 365-days of sunshine. How could I say no? The company started as Odontorium Products Inc. During the acrylic movement of the 1980s, we realized that nail technicians were buying our product, and that the same components used for dentures were used for artificial nails. We saw a potential opening in the market, and we seized it. OPI began dropping off the "rubber band special" at every salon on Ventura Blvd. in Los Angeles. A jar of powder, liquid and primer – rubber-banded together – became the OPI Traditional Acrylic System and was a huge hit, giving OPI its start in the professional nail industry. It was 1981 when OPI first opened its doors. I couldn't have predicted our success, but I knew that hard work and faith in myself would be key in transforming a new business into a company with global reach.
Become a member
When we started OPI, what we were doing was something new. Before OPI came on the scene, the generic, utilitarian nail polish names already on the market – like Red No. 4, Pink No. 2 – were completely forgettable. We rebranded the category with catchy names that we knew women could relate to and would remember. The industry was stale and boring, so we made it more fun and sexy. We started creating color collections. I carefully developed 30 groundbreaking colors for the debut collection -- many of which are still beloved bestsellers today, including Malaga Wine, Alpine Snow and Kyoto Pearl.
There is no other nail color brand in the world that touches the totality of industries the way OPI does.
With deep roots in Tinseltown, we eventually started collaborating with Hollywood. Our decision to collaborate with the entertainment industry also propelled OPI forward in another way, ultimately leading us to finding a way to connect with women beyond the world of beauty, relating our products to the beverages they drink, the cars they drive, the movies they watch, the clothes they wear – even the shade they use to paint their living room walls! There is no other nail color brand in the world that touches the totality of industries the way OPI does. It also propelled my growth as a businessperson forward. I found myself sitting in meetings with executives from some of the top companies in the world. I didn't have a fancy presentation. I didn't have a Harvard business degree. I realized that what I had was passion. I had a passion for what we were doing, and I had my own unique story that no one else could replicate.
Discipline, hard work, and passion gave me the confidence to grow from that shy immigrant girl to become the person that I am today
Bit by bit, I grew up with the business. Discipline, hard work, and passion gave me the confidence to grow from that shy immigrant girl to become the person that I am today -- an author, public speaker, and co-founder of OPI, the world's #1 professional nail brand.
I learned quickly that one can be an expert at many things, but not everything. Running a business is very hard work. Luckily, I had someone I could collaborate with who brought something new to the table and complemented my talents, my brother-in-law George Schaeffer. My business "superpower," or the ability to make decisions quickly and confidently, kept me ahead of trends and competition.
Another key to my success in building this brand and in growing in business was being authentic. Authenticity is so important to brands and maybe even more so now in the time of social media when you can speak directly to your consumers. I realized even then that I could only be me. I was a woman who knew what I wanted. I looked at my mother and daughter and wanted to create products that would excite and empower them.
There's often an expectation placed on women in charge that they need to be cutthroat to be competitive, but that's not true. Rather than focusing on my gender or any implied limitations I might bring to the job as a female and a mother, I always focused instead on my vision. I deliberately fostered an environment at OPI filled with warmth. After all, at the end of the day, your organization is only as good as its people. I've always found that being nice, being humble, and listening to others has served me well. Instead of pushing others down to get to the top, inspire them and bring them along on the journey.
You can read more about my personal and professional journey in my new memoir out now, I'm Not Really a Waitress: How One Woman Took Over the Beauty Industry One Color at a Time.