Explore stories
Member communities
SWAAY voices
Close
MEMBER COMMUNITIES
SWAAY VOICES
---
In one of our leadership communication programs, my team and I were coaching the sales managers of a financial institution
I was helping one particular mid-level manager prepare for an upcoming sales call when I asked her: "Why do you do what you do?"

She responded: "Well, I like serving others."
"Why?", I asked.
"Because service is important to me." Me again: "Why?"
"Because that's what my parents taught me."
"Tell me more."
"Growing up, my parents ran their own business. Every single day, I saw them get up early to serve their customers, putting others' needs before their own. I think about that experience every day when I wake up, and I want to teach that to my children as well. That's why I do what I do."
A-hah!
It may seem surprising, but sometimes we get so caught up in our work and our busy day that, when put on the spot, we're left digging for answers to basic questions like why we do the things we do. And while you might think you have the answer, as seen with my client, it can be tough to get past the generic answer to arrive at the underlying drivers of our behaviors.
But getting to that deeper truth is a critical step if you're preparing to speak publicly, because Why you? is the single most powerful question you can ask yourself when preparing a speech or presentation. It's one of the best tools for commanding rooms and influencing others. This is where you put aside the bureaucracy of your job, the politics of your cause, or the dysfunction of your office, and determine the sense of purpose that guides your actions.
SEE ALL MEMBER BENEFITS
Whether you're a regular speaker within your workplace or you're preparing to give your first company-wide presentation, centering on your answer to Why you? will provide the following advantages:
It helps you choose language that is authentic to you. It's hard to sound authentic when you are parroting corporate jargon. Why you? brings out your natural language and makes your speech more genuine.
It animates your body and voice. Body language and vocal tone will complement your words. When you truly believe in your message, that sense of purpose naturally animates your body and voice.
It builds your confidence. Both young professionals and seasoned executives will confess to a lack of confidence when speaking. What if others in the room know more than I do? What if the audience is questioning my authority to speak? Connecting with your Why you? reinforces your credibility and your authority.
It helps you connect to your audience on a personal level and build trust. You might think it's unprofessional to share a personal story in a business setting. But we are not robots; we are human beings doing business with other human beings. We are driven by personal motivations, and we have values that guide our actions. When you share those motivations with others, even in a business setting, you connect on a personal level and you build trust.
One of the best places to include your Why you? is in the beginning of your speech or presentation. Imagine using the story about growing up in a family-owned business when you are pitching a small business prospect. Using that story, the prospect might think "Yes, this person understands where I am coming from. I can trust this person."
Take a moment right now and consider:
What gets you out of bed in the morning? What made you choose your line of work? What made you volunteer for this particular cause? Why do you do what you do?
It's not "So I can make more money" or "So I can get promoted" or "So I can look good in front of my boss." It's deeper than that. And you might have to ask yourself this question repeatedly to get the underlying answer.
If your response to Why you? has something to do with family, you might be on the right path. You'll notice a lot of the Why you? comes back to family and early childhood. In another training program, one woman got straight to the point when she said "My father sold insurance, and every day he came home happy. When it was time to choose a career, I chose to follow in his footsteps. That's why I do what I do."
If you're struggling to find an answer to Why you? that feels authentic while also sticking to your goals for the speech, consider the following questions: Why do you care about your audience or about the occasion of the speech? Why do you care about your subject or your organization? What are you proud of in your work?
One word of warning: be prepared to embrace the authentic answer to this question. Sometimes Why you? has ramifications that will follow you well beyond a speaking event.
For example, I remember coaching a man who worked in real estate development. I knew this was an engaged, passionate individual with a fabulous sense of humor. But as he stood up to practice a presentation to a community board, he changed completely. His shoulders slumped, his smile drooped into a grimace, and he sighed loudly while leaning on one hip and weakly gesturing at the slides behind him. He was afraid that he was a boring speaker. And actually, he was. So we worked through a few critical questions, and when we arrived at Why you? he came to a startling realization. I asked him why he was passionate about his work. It turns out, he wasn't. He hated his job. He mistrusted his boss. He didn't like the industry. He wasn't a boring speaker, he was just bored.
If you are bored with your subject or if you hate your job, it's going to be very difficult to give a powerful, authentic speech. And in those cases, you do have a couple of options. You can change careers, as my friend did. He wound up quitting his job and pursuing his dream to revitalize an abandoned building in his city. But maybe you have three kids to support, college bills, and a mortgage. So instead of searching for what you're passionate about, think about what you like about your work.
The final question I always hear in relation to Why you? is: "How will I know when I've found the right answer?" This turns out to the be simplest part of the process. You'll know, because you'll feel it and think "Yes, that's the thing I'm looking for."
Once you've identified your Why You?, you can move on to the other two questions I coach all speakers to consider: "Who is your audience?" and "What is your goal?". These questions also provide you with information that should shape the content of your speech. Select content that will resonate with your audience and steer the speech in a direction that connects to your ultimate goal. If you keep all three questions in mind, answer them honestly, and use those answers to inform your speech preparation, you'll give an impactful presentation. Your Why You? is the key.
Over It Mic Drop GIF by Wilson Tennis - Find & Share on GIPHY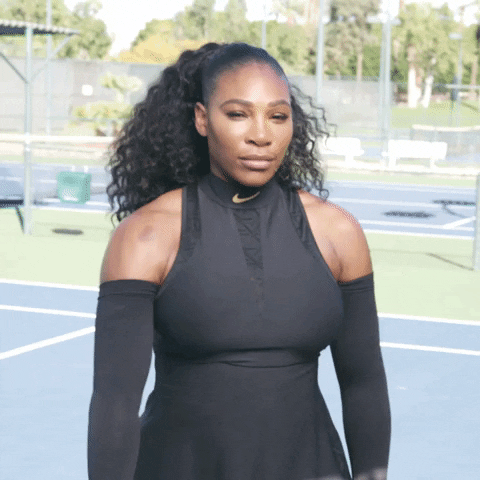 Giphy
Discover & share this Wilson Tennis GIF with everyone you know. GIPHY is how you search, share, discover, and create GIFs.
Sponsored
It isn't always easy to stay on top of your finances, especially when you have developed unhealthy spending habits over the years. However, as you begin to realize the many benefits of having healthy finances, it can become something you want to make a conscious effort to improve. When your finances are in a good place, you often have access to better opportunities whether it be a mortgage loan, greater credit line or business loan. On that note, here is how you can become an expert at managing your finances in case you need a few tips.
---
Learn to Use Technology
The good thing about managing finances in the technological age is that you don't have to do it alone. There are so many apps available that will help you pay bills on time and track your expenses. For instance, some apps force you to live within your actual income and tell you what to do when you need to balance your budget.
If you need an app that will help you get better at saving, then some will set aside your spare change for you. Also, don't be afraid to use more simple tools such as your smartphone calendar to set reminders about payments if you don't automate them.
Seek Legal Advice
Sometimes, being an expert at something means understanding that you can't possibly know it all. This is why you have professionals around you that can help fill in the gaps where you're lacking. Consider hiring a legal firm to help with any challenges that are beyond you. Lexington Law is a good firm as they could help remove negative items from your credit report. Read this Lexington Law Review (Our #1 Credit Repair Service of 2019) to find out more about how they could help improve your finances.
SEE ALL MEMBER BENEFITS
Prioritize Learning
You can't do better than what you know when it comes to managing finances. You should, therefore, invest your time in learning more about finances and how to manage them. Think about what your goals for your finances are and what knowledge gaps you need to fill.
For example, if you want to invest in the stock market so that you can improve your net worth, then you may need to learn more about investing to do so successfully. To boost your knowledge, try reading articles on credible blogs that share finance information from professionals. Also, be weary of content from finance-driven companies as it could be biased.
Work on Growing Your Income
As a self-proclaimed finance guru, you know that the more sources of income that you have, the better. Work on increasing your streams of income so that you have more money to meet your targets whether it's to save for a property or put larger sums towards retirement. One way to do so would be by getting extra income by doing social media marketing for businesses or creating tutorials on YouTube. If you own a property, renting out rooms is a great way to make passive income.
Live Within Your Means
It can be difficult to live within your means when you live in a society that is always presenting you with things to buy. However, being more conscious about the things that you purchase could help you realize that most are wants rather than needs. To live within your means, always take time to think about a purchase as opposed to impulse spending. You should always get good at bargain hunting as many times you can find items of similar quality at a cheaper price.
Learn How to Manage Debt
Debt doesn't have to be a bad thing if you understand how it works and how to manage it. It can be a tool for credit building when you understand the fundamentals. For instance, if you take out a loan or credit card, always be mindful of your interest rates.
By paying the amount of money you borrowed back in full before the due date, you won't have to pay interest on what you borrowed. If you can't pay back in full, paying more than the minimum payment will ensure you incur less interest. For the most part, the secret to good debt management is never spending more than you can afford to pay back.
Managing finances is a life skill that can help improve your quality of life. By following the mentioned tips and taking your finances more seriously, you're more likely to master the art of healthy finances.