---
In one of our leadership communication programs, my team and I were coaching the sales managers of a financial institution
I was helping one particular mid-level manager prepare for an upcoming sales call when I asked her: "Why do you do what you do?"

She responded: "Well, I like serving others."
"Why?", I asked.
"Because service is important to me." Me again: "Why?"
"Because that's what my parents taught me."
"Tell me more."
"Growing up, my parents ran their own business. Every single day, I saw them get up early to serve their customers, putting others' needs before their own. I think about that experience every day when I wake up, and I want to teach that to my children as well. That's why I do what I do."
A-hah!
It may seem surprising, but sometimes we get so caught up in our work and our busy day that, when put on the spot, we're left digging for answers to basic questions like why we do the things we do. And while you might think you have the answer, as seen with my client, it can be tough to get past the generic answer to arrive at the underlying drivers of our behaviors.
But getting to that deeper truth is a critical step if you're preparing to speak publicly, because Why you? is the single most powerful question you can ask yourself when preparing a speech or presentation. It's one of the best tools for commanding rooms and influencing others. This is where you put aside the bureaucracy of your job, the politics of your cause, or the dysfunction of your office, and determine the sense of purpose that guides your actions.
Whether you're a regular speaker within your workplace or you're preparing to give your first company-wide presentation, centering on your answer to Why you? will provide the following advantages:
It helps you choose language that is authentic to you. It's hard to sound authentic when you are parroting corporate jargon. Why you? brings out your natural language and makes your speech more genuine.
It animates your body and voice. Body language and vocal tone will complement your words. When you truly believe in your message, that sense of purpose naturally animates your body and voice.
It builds your confidence. Both young professionals and seasoned executives will confess to a lack of confidence when speaking. What if others in the room know more than I do? What if the audience is questioning my authority to speak? Connecting with your Why you? reinforces your credibility and your authority.
It helps you connect to your audience on a personal level and build trust. You might think it's unprofessional to share a personal story in a business setting. But we are not robots; we are human beings doing business with other human beings. We are driven by personal motivations, and we have values that guide our actions. When you share those motivations with others, even in a business setting, you connect on a personal level and you build trust.
One of the best places to include your Why you? is in the beginning of your speech or presentation. Imagine using the story about growing up in a family-owned business when you are pitching a small business prospect. Using that story, the prospect might think "Yes, this person understands where I am coming from. I can trust this person."
Take a moment right now and consider:
What gets you out of bed in the morning? What made you choose your line of work? What made you volunteer for this particular cause? Why do you do what you do?
It's not "So I can make more money" or "So I can get promoted" or "So I can look good in front of my boss." It's deeper than that. And you might have to ask yourself this question repeatedly to get the underlying answer.
If your response to Why you? has something to do with family, you might be on the right path. You'll notice a lot of the Why you? comes back to family and early childhood. In another training program, one woman got straight to the point when she said "My father sold insurance, and every day he came home happy. When it was time to choose a career, I chose to follow in his footsteps. That's why I do what I do."
If you're struggling to find an answer to Why you? that feels authentic while also sticking to your goals for the speech, consider the following questions: Why do you care about your audience or about the occasion of the speech? Why do you care about your subject or your organization? What are you proud of in your work?
One word of warning: be prepared to embrace the authentic answer to this question. Sometimes Why you? has ramifications that will follow you well beyond a speaking event.
For example, I remember coaching a man who worked in real estate development. I knew this was an engaged, passionate individual with a fabulous sense of humor. But as he stood up to practice a presentation to a community board, he changed completely. His shoulders slumped, his smile drooped into a grimace, and he sighed loudly while leaning on one hip and weakly gesturing at the slides behind him. He was afraid that he was a boring speaker. And actually, he was. So we worked through a few critical questions, and when we arrived at Why you? he came to a startling realization. I asked him why he was passionate about his work. It turns out, he wasn't. He hated his job. He mistrusted his boss. He didn't like the industry. He wasn't a boring speaker, he was just bored.
If you are bored with your subject or if you hate your job, it's going to be very difficult to give a powerful, authentic speech. And in those cases, you do have a couple of options. You can change careers, as my friend did. He wound up quitting his job and pursuing his dream to revitalize an abandoned building in his city. But maybe you have three kids to support, college bills, and a mortgage. So instead of searching for what you're passionate about, think about what you like about your work.
The final question I always hear in relation to Why you? is: "How will I know when I've found the right answer?" This turns out to the be simplest part of the process. You'll know, because you'll feel it and think "Yes, that's the thing I'm looking for."
Once you've identified your Why You?, you can move on to the other two questions I coach all speakers to consider: "Who is your audience?" and "What is your goal?". These questions also provide you with information that should shape the content of your speech. Select content that will resonate with your audience and steer the speech in a direction that connects to your ultimate goal. If you keep all three questions in mind, answer them honestly, and use those answers to inform your speech preparation, you'll give an impactful presentation. Your Why You? is the key.
Over It Mic Drop GIF by Wilson Tennis - Find & Share on GIPHY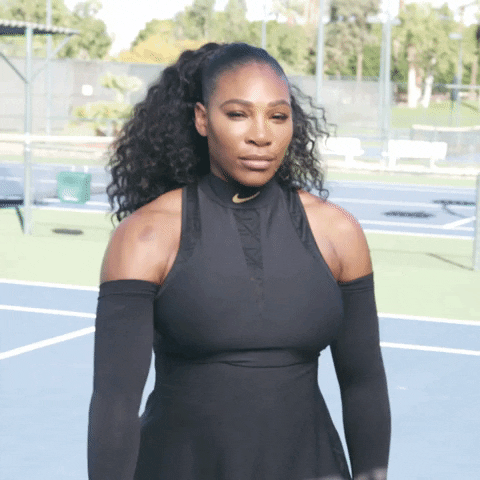 Giphy
Discover & share this Wilson Tennis GIF with everyone you know. GIPHY is how you search, share, discover, and create GIFs.
8 Min Read
Health
Disclaimer: I am writing this piece as someone who has thin privilege. I do not experience weight-based discrimination like those who live in larger bodies. In naming my privilege, I hope to highlight the fact that my experience of this topic is limited to what I have learned from the courageous work of body positivity and fat activists, colleagues, and clients of mine who live in larger bodies.
A note on "fat": Many fat activists and people in larger bodies have made the decision to reclaim the word "fat" as a neutral descriptor. The decision to do so is highly personal for individuals living in larger bodies, as many have experienced the word "fat" being weaponized against them. For the purposes of this article, I stick to the wording of "people in larger bodies" or "people in higher-weight bodies" to respect the journeys of those trying to decide what descriptor best matches their lived experience.
Michelle was a three-sport athlete in high school. While there was a part of her that enjoyed the camaraderie with her teammates, the sense of accomplishment she felt when setting new records — there was another part of her that participated in the hopes of shrinking her body. Michelle, who is now studying to be a therapist, didn't know about eating disorders when she was younger. She reflects, "I had this idea that I wanted to become a professional swimmer so that I would be able to exercise even more. I would get many compliments on my body during swim season, even though that was when I hated my body the most."

The comments Michelle received on her weight and body when she was restricting and compensating fueled her eating disorder. "There was an underlying message" she adds, "that my body wasn't good enough before I lost the weight."
"There was an underlying message" she adds, "that my body wasn't good enough before I lost the weight."
As an eating disorders treatment professional, I, unfortunately, hear accounts like Michelle's on a daily basis — a person loses weight due to an increasingly problematic relationship food — that weight loss is complimented, and the person continues engaging in behaviors that are extremely harmful. I've also heard countless stories from friends, family, colleagues, and complete strangers sharing that they have received weight-loss compliments when they were experiencing immense pain and suffering — dying from cancer, grieving the loss of a spouse, or suffering from another debilitating illness.
With at least 20 million women and 10 million women in America alone suffering from an eating disorder at some point in their lives and countless others suffering from any number of physical or mental illnesses that might contribute to weight fluctuations, one would think that it would be common sense not to comment on a person's weight. Why are weight loss compliments such a common social gesture, despite their glaringly inappropriate and problematic connotations?
Why are weight loss compliments such a common social gesture, despite their glaringly inappropriate and problematic connotations?
It's a complex issue — while some people equate weight loss to desirability, others associate it with health and longevity (and many believe the two go hand-in-hand). But why? Why are these beliefs so deeply ingrained? One answer is fatphobia.
What is fatphobia?
Fatphobia is the fear of being fat or becoming fat, which results in the stigmatization of individuals that live in fat bodies. Fatphobia, which has both racist and classist origins, is at the root of our cultural obsession with thinness and diet culture.
Author of Fearing the Black Body, Sabrina Strings explains in her interview with NPR that 19th-century magazines, such as Harper's Bazaar, warned their white, middle and upper-class women audience that they must start to "watch what they ate" as a mechanism for differentiating themselves from slaves, creating a new aspect of racial identity (if you're interested in learning more about the racial origins and history of fatphobia check out the resources I've outlined at the end of this piece).
Fast forward 100 or so years, and our culture's fear of fatness shows up regularly on an individual, institutional, and systemic level (much like racism).
From a young age, we receive messages that being smaller is better — from thin barbie dolls with tight skin, thigh gaps, and virtually zero body fat to Disney princesses that are all more or less the same (thin) size. We see fatphobia on TV shows and movies both in casting (most people who land major roles live in thin bodies) and in the actual scripts (fat jokes). Not to mention that airlines don't make seats suitable for people in larger bodies, or that the fashion industry is particularly exclusive in its sizing and clothing lines.
From a young age, we receive messages that being smaller is better — from thin barbie dolls with tight skin, thigh gaps, and virtually zero body fat to Disney princesses that are all more or less the same (thin) size.
Weight stigma also impacts a person's chances of getting hired and the quality of health care they receive. Research shows that individuals who fall into higher weight categories are less likely to be hired than their thin counterparts. Additionally, weight-stigma in the health care system runs so rampantly that many individuals in higher weight bodies avoid the doctor's office for fear of being shamed or embarrassed. It's not uncommon, for instance, for someone who is "overweight" or "obese" to go to the doctor's office for a sinus infection and leave with a recommendation for weight loss.
Perhaps one of the most heartbreaking aspects of fatphobia is that individuals in larger bodies often internalize these attitudes, which leads to greater body image concern, anti-fat attitudes, depressive symptoms, stress, and reduced self-esteem.
Our collective fear of fatness is directly linked to the fact that it's extremely burdensome for people in higher-weight bodies to exist in this world.
Why am I telling you all of this?
Our collective fear of fatness is directly linked to the fact that it's extremely burdensome for people in higher-weight bodies to exist in this world. Instead of identifying this as a social justice issue, the majority of us have bought into the narrative that fat is bad and weight is always a matter of personal responsibility (spoiler: it's not).
Do individual choices impact a person's weight and health? Of course.
However, it would be irresponsible to not acknowledge that there are a number of factors that impact a person's weight even more so, than certain individual elements. These influences include but are not limited to: family history and genetics, race or ethnicity, socioeconomic status, age, sex, dieting history, exposure to trauma, chronic stress, racism, and/or discrimination, food insecurity, family habits and culture, sleeping habits, medical conditions, medications, and eating disorders.
Simply put, weight is far more complicated than most of us are willing to admit.
But what about health? What if a person has or desires to lose weight for "health reasons"?
Good question, to which I would say this:
This question assumes that in order for a person to "be healthy" they have to pursue weight loss (they don't). In fact, putting weight loss on the back burner and focusing on healthy behaviors, rather than weight has been shown to improve clinically relevant in various health and physiological markers, including blood pressure, blood lipids, eating and activity habits, self-esteem, and body image.
Assuming that everyone should be able to fit into our culture's irrational thin ideal and obtain a perfect picture of health while doing so is ill-informed.
If diets actually did what they promised they would do, the $70 billion dollar diet industry would be null and void. What most people don't know is that the diet industry — fueled by fatphobia — actually sets its consumers up to fail (and keep coming back for more). There is a large body of research that actually shows that dieting usually results in initial weight loss followed by weight gain. While there's nothing wrong with weight gain, most people don't set out to diet thinking they will gain weight. The human body is incredibly adaptive, and often, weight gain after dieting is a result of a person's body trying to protect them from starvation.
The people who lose weight and keep it off generally fall into a few camps:
1) They follow meticulous diet and exercise regimens in order to maintain the weight loss (one might call this disordered eating).
2) They are suffering from a serious mental or medical illness that results in suppressed weight.
3) Their survival genetics aren't quite as strong as the majority of the population, and for whatever reason, their body was okay with losing the weight and keeping it off (while there are some individuals who do fall into this camp, this certainly isn't the majority).
This brings me back to my main point: Weight loss compliments do more harm than good because we don't ever really know how the person lost the weight and there is a high likelihood that they will gain at least some of it back. Although they may be well-intended in the moment, weight loss compliments say nothing more than "Congrats, you're closer to matching our society's incredibly narrow beauty standards…"
So what do we do with this information? How do we move forward? Here are a few practical tips:
1. Continue to educate yourself about fatphobia, diet culture, and weight-inclusive principles. At the end of this article I, with the help of my colleagues, have provided a list of resources to help you get you started. Once you learn more, speak out about these issues, and seek out initiatives and policies that are more inclusive for all bodies.
2. Make an unapologetic commitment to refrain from weight loss compliments. Just. don't. do it. As I previously mentioned in an Instagram post above, it can feel pretty uncomfortable to not offer praise to someone who is subtly or not-so-subtly asking for it, especially if you love them. And yet, how powerful is it to say to someone "I love you for who you are, not what you look like."
3. Consider these alternatives to weight loss compliments:
4. Say nothing. Literally. Close your Mouth. Don't comment.
- "I'm so happy to see you"
- "I love you so much"
- "How are you doing?"
- "What's new?"
- "I so enjoy spending time with you!"
- "I'm glad you're feeling good" — only use this one when you know, for a fact, that the person is actually feeling good.
In summary, there just really isn't an appropriate reason to comment on another person's weight. Weight loss compliments do more harm than good by upholding oppressive systems, perpetuating excluding beauty ideals, and often inaccurately equating thinness to health. On an individual level, you never really know how or why a person loses weight or if they will gain any of it back. So, in the spirit of being kind, sensitive, and decent human beings, let's lay off the weight loss "compliments" for good.
Recommended Reading: