Explore stories
Member communities
SWAAY voices
Close
MEMBER COMMUNITIES
SWAAY VOICES
---
In one of our leadership communication programs, my team and I were coaching the sales managers of a financial institution
I was helping one particular mid-level manager prepare for an upcoming sales call when I asked her: "Why do you do what you do?"

She responded: "Well, I like serving others."
"Why?", I asked.
"Because service is important to me." Me again: "Why?"
"Because that's what my parents taught me."
"Tell me more."
"Growing up, my parents ran their own business. Every single day, I saw them get up early to serve their customers, putting others' needs before their own. I think about that experience every day when I wake up, and I want to teach that to my children as well. That's why I do what I do."
A-hah!
It may seem surprising, but sometimes we get so caught up in our work and our busy day that, when put on the spot, we're left digging for answers to basic questions like why we do the things we do. And while you might think you have the answer, as seen with my client, it can be tough to get past the generic answer to arrive at the underlying drivers of our behaviors.
But getting to that deeper truth is a critical step if you're preparing to speak publicly, because Why you? is the single most powerful question you can ask yourself when preparing a speech or presentation. It's one of the best tools for commanding rooms and influencing others. This is where you put aside the bureaucracy of your job, the politics of your cause, or the dysfunction of your office, and determine the sense of purpose that guides your actions.
Whether you're a regular speaker within your workplace or you're preparing to give your first company-wide presentation, centering on your answer to Why you? will provide the following advantages:
It helps you choose language that is authentic to you. It's hard to sound authentic when you are parroting corporate jargon. Why you? brings out your natural language and makes your speech more genuine.
It animates your body and voice. Body language and vocal tone will complement your words. When you truly believe in your message, that sense of purpose naturally animates your body and voice.
It builds your confidence. Both young professionals and seasoned executives will confess to a lack of confidence when speaking. What if others in the room know more than I do? What if the audience is questioning my authority to speak? Connecting with your Why you? reinforces your credibility and your authority.
It helps you connect to your audience on a personal level and build trust. You might think it's unprofessional to share a personal story in a business setting. But we are not robots; we are human beings doing business with other human beings. We are driven by personal motivations, and we have values that guide our actions. When you share those motivations with others, even in a business setting, you connect on a personal level and you build trust.
One of the best places to include your Why you? is in the beginning of your speech or presentation. Imagine using the story about growing up in a family-owned business when you are pitching a small business prospect. Using that story, the prospect might think "Yes, this person understands where I am coming from. I can trust this person."
Take a moment right now and consider:
What gets you out of bed in the morning? What made you choose your line of work? What made you volunteer for this particular cause? Why do you do what you do?
It's not "So I can make more money" or "So I can get promoted" or "So I can look good in front of my boss." It's deeper than that. And you might have to ask yourself this question repeatedly to get the underlying answer.
If your response to Why you? has something to do with family, you might be on the right path. You'll notice a lot of the Why you? comes back to family and early childhood. In another training program, one woman got straight to the point when she said "My father sold insurance, and every day he came home happy. When it was time to choose a career, I chose to follow in his footsteps. That's why I do what I do."
If you're struggling to find an answer to Why you? that feels authentic while also sticking to your goals for the speech, consider the following questions: Why do you care about your audience or about the occasion of the speech? Why do you care about your subject or your organization? What are you proud of in your work?
One word of warning: be prepared to embrace the authentic answer to this question. Sometimes Why you? has ramifications that will follow you well beyond a speaking event.
For example, I remember coaching a man who worked in real estate development. I knew this was an engaged, passionate individual with a fabulous sense of humor. But as he stood up to practice a presentation to a community board, he changed completely. His shoulders slumped, his smile drooped into a grimace, and he sighed loudly while leaning on one hip and weakly gesturing at the slides behind him. He was afraid that he was a boring speaker. And actually, he was. So we worked through a few critical questions, and when we arrived at Why you? he came to a startling realization. I asked him why he was passionate about his work. It turns out, he wasn't. He hated his job. He mistrusted his boss. He didn't like the industry. He wasn't a boring speaker, he was just bored.
If you are bored with your subject or if you hate your job, it's going to be very difficult to give a powerful, authentic speech. And in those cases, you do have a couple of options. You can change careers, as my friend did. He wound up quitting his job and pursuing his dream to revitalize an abandoned building in his city. But maybe you have three kids to support, college bills, and a mortgage. So instead of searching for what you're passionate about, think about what you like about your work.
The final question I always hear in relation to Why you? is: "How will I know when I've found the right answer?" This turns out to the be simplest part of the process. You'll know, because you'll feel it and think "Yes, that's the thing I'm looking for."
Once you've identified your Why You?, you can move on to the other two questions I coach all speakers to consider: "Who is your audience?" and "What is your goal?". These questions also provide you with information that should shape the content of your speech. Select content that will resonate with your audience and steer the speech in a direction that connects to your ultimate goal. If you keep all three questions in mind, answer them honestly, and use those answers to inform your speech preparation, you'll give an impactful presentation. Your Why You? is the key.
Over It Mic Drop GIF by Wilson Tennis - Find & Share on GIPHY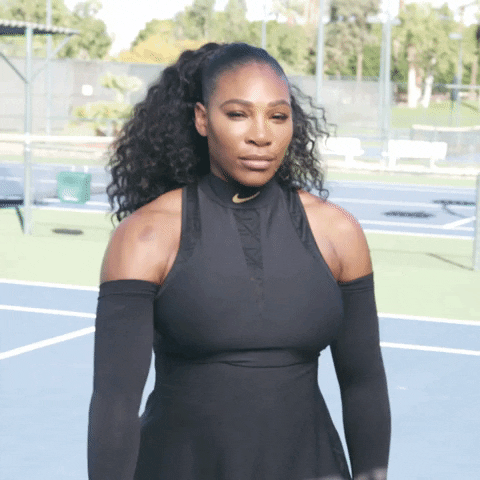 Giphy
Discover & share this Wilson Tennis GIF with everyone you know. GIPHY is how you search, share, discover, and create GIFs.
4min read
Influential Voices
It's the question on everyone's tongues. It's what motivates every conversation about whether or not Liz Warren is "electable," every bit of hand-wringing that a woman just "can't win this year," and every joke about menstrual cycles and nuclear missiles. Is America ready for a woman president?
---
It's a question that would be laughable if it wasn't indicative of deeper problems and wielded like a weapon against our ambitions. Whether thinly-veiled misogyny or not (I'm not going to issue a blanket condemnation of everybody who's ever asked), it certainly has the same effect: to tell us "someday, but not yet." It's cold comfort when "someday" never seems to come.
What are the arguments? That a woman can't win? That the country would reject her authority? That the troops would refuse to take her orders? That congress would neuter the office? Just the other day, The New York Times ran yet another in a long series of op-eds from every major newspaper in America addressing this question. However, this one made a fascinating point, referencing yet another article on the topic in The Atlantic (examining the question during Hillary Clinton's 2016 presidential bid), which cited a study by two Yale researchers who found that people were either the same or more likely to vote for a fictional male senator when told that he was ambitious; and yet, both men and women alike were less likely to vote for a woman when told that she was ambitious, even reacting with "feelings of moral outrage" including "contempt, anger, and disgust."
The question isn't whether a woman could be president, or whether a woman can be elected president – let's not forget that Hillary Clinton won three million more votes than the wildly unqualified man currently sitting in the oval office – it's whether or not it's appropriate for a woman to run for president, in a pre-conscious, visceral, gut-check way. In short, it's about misogyny. Not your neighbors' misogyny, that oft-cited imaginary scapegoat, but yours. Ours. Mine. The misogyny we've got embedded deeply in our brains from living in a society that doesn't value women, the overcoming of which is key for our own growth, well-being, and emotional health.
Why didn't we ever ask if America was ready for Trump?
That misogyny, too, is reinforced by every question asking people to validate a woman even seeking the position. Upfront, eo ipso, before considering anything of their merit or experience or thought, whether a woman should be president, that, if given the choice between a qualified woman and an unqualified man, the man wins (which, let's not forget, is what happened four years ago). To ask the question at all is to recognize the legitimacy of the difference in opinion, that this is a question about which reasonable people might disagree. In reality, it's a question that reason doesn't factor into at all. It's an emotional question provoking an emotional response: to whom belong the levers of power? It's also one we seem eager to dodge.
"Sure, I'd vote for a woman, but I don't think my neighbor would. I'd vote for a woman, but will South Carolina? Or Nebraska? Or the Dakotas?" At worst, it's a way to sort through the cognitive dissonance the question provokes in us – it's an obviously remarkable idea, seeing as we've never had a woman president – and at best, it's sincere surrender to our lesser angels, allowing misogyny to win by default. It starts with the assumption that a woman can't be president, and therefore we shouldn't nominate one, because she can't win. It's a utilitarian argument for excluding half of the country's population from eligibility for its highest office not even by virtue of some essential deficiency, but in submission to the will of a presumed minority of voters before a single vote has ever been cast. I don't know what else to call that but misogyny by other means.
We can, and must, do better than that. We can't call a woman's viability into question solely because she's a woman. To do so isn't to "think strategically," but to give ground before the race even starts. It's to hobble a candidate. It's to make sure voters see her, first and foremost, as a gendered object instead of a potential leader. I have immense respect for the refusal of women like Hillary Clinton, Kamala Harris, Elizabeth Warren, Amy Klobuchar, and pioneers like Carol Mosley-Braun, going as far back as Victoria Woodhull, to accede to this narrative and stick to their arguments over the course of their respective campaigns, regardless of any policy differences with them. It's by women standing up and forcing the world to see us as people that we push through, not by letting them tell us where they think we belong.
One of the themes I come back to over and over again in my writing is women asserting independence from control and dignity in our lives. It's the dominant note in feminist writing going back decades, that plea for recognition not only of our political and civil rights, but our existence as moral agents as capable as any man in the same position, as deserving of respect, as deserving of being heard and taking our shot. What then do we make of the question "is America ready for a woman president?" Is America ready? Perhaps not. But perhaps "ready" isn't something that exists. Perhaps, in the truest fashion of human politics, it's impossible until it, suddenly, isn't, and thereafter seems inevitable.
I think, for example, of the powerful witness Barack Obama brought to the office of president, not simply by occupying it but by trying to be a voice speaking to America's cruel and racist history and its ongoing effects. By extension, then, I think there is very real, radical benefit to electing a chief executive who has herself been subject to patriarchal control in the way only women (and those who others identify as women) can experience.
I look at reproductive rights like abortion and birth control, and that is what I see: patriarchal control over bodies, something no single president has ever experienced. I think about wage equality; no US president has ever been penalized for their sex in their ability to provide for themselves and their families. I look at climate change, and I remember that wealth and power are inextricably bound to privilege, and that the rapacious hunger to extract value from the earth maps onto the exploitation women have been subject to for millennia.
That's the challenge of our day. We've watched, over the last decade, the radicalized right go from the fringes of ridicule to the halls of power. We've watched them spit at the truth and invent their own reality. All while some of our best leaders were told to wait their turn. Why, then, all this question of whether we're ready for something far simpler?
Why didn't we ever ask if America was ready for Trump?